Contact
Theatre Projects Office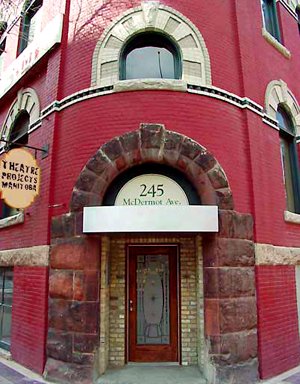 Theatre Projects Manitoba office is located in the heart of Winnipeg's historic Exchange District within the fabulous Kay building at the corner of Arthur and McDermot, one block West of Main Street.
Phone: (204)-989-2400.
Mail:
Theatre Projects Manitoba
204-245 McDermot Avenue
Winnipeg, MB R3B 0S6 Canada
Theatre Projects Venues
We won't be pinned down! Theatre Projects does not work out of one particular theatre space. We like to move around, choosing our venues for our shows. We've played out of many venues including The Rachel Browne Theatre,  Times Change(d) High and Lonesome Club, The Gas Station Theatre and the Circle of Life Thunderbird House. This season will be no different – to find out where we are, check individual show information or call us.