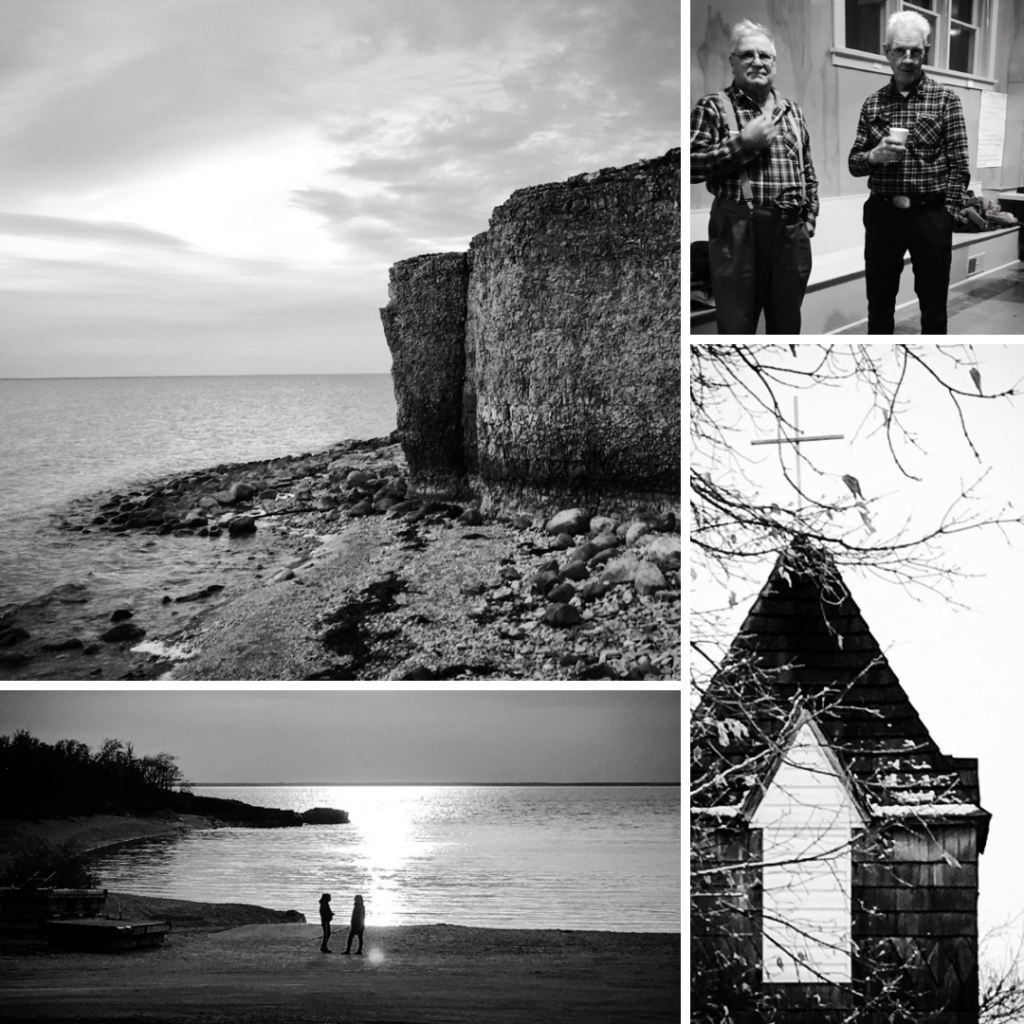 Our merry band of artists have left Winnipeg to explore another fabulous area in the Interlake! While they are out on the road we have our Chautauqua documentarian, Chris Sousa, bringing you letters from 'up the 6'!
Dear Winnipeg:
Leaving the Moosehorn area late Sunday evening, we all felt a sense of belonging and accomplishment. The first week of tour did so many things for our group, as well as the community we inhabited. After a week filled with eclectic programming, we discovered that we had a second family in Ashen and Steep Rock.  As we left on that snowy evening we all had love in our hearts from the small dedicated towns, and ambition in our minds for the weeks to come. A day off came and passed on Monday and Tuesday we gathered again and set sail back up the Six; a happy new routine.
Heading into Lundar we could tell that this town had its own unique personality. Our first stop was Lundar School. This was the setting for the second school performance of Mary's Wedding. After our time there, we left for Eriksdale. There we meet with our crew for a group lunch at the best restaurant in town known simply as the "The New Horizons Club". This was clearly the it place to be in town. After our group meal, I took the opportunity to explore the town of Eriksdale. I walked through the streets and bushiness' and discovered this town had a persona all its own. The trees, roads, and homes seemed peaceful and untouched, like it had always been there. Every community member we have met has welcomed us like we were close friends & family.
These two towns are proving to be unique and prosperous in their own way, and this tour is proving to be an experience worth remembering. With week # One in the books and week # Two moving steadily along, we look forward to the adventures and discoveries we will uncover in the coming days.  I hope you are enjoying these stories as much as we are living them. Well, as always Winnipeg, its been nice. See you in a week!
-Chris Sousa
---
Right Between the Lakes
Interesting fact about Eriksdale:
They have the only creamery museum in Manitoba!for more information on this historical landmark follow the link (below) for more info!
Check out the Eriksdale Museum HERE! 
---
Don't Miss – FREE Events!
---
FRIDAY, OCTOBER 19
Community Salon 
7:00-9:00pm, Sabados' Greenhouse
An evening of local stories & performances featuring community members and the artists of the Interlake Chautauqua tour. All ages are welcome!
With a Film screening by Erika MacPherson and performances by the newly formed Eriksdale Chautauqua Community Choir!
---
THURSDAY, OCTOBER 25
A Song for John Ramsay
Film Premiere and concert
featuring William Prince, Scott Nolan
and Duncan Mercredi
Riverton, MB
7:00-9:00pm, Riverton Hall
Gimli filmmaker Andy Blicq premieres his newest work- a "Song for John Ramsay" featuring Juno Award Winning songwriter William Prince (Peguis). Discover this rich local history of early Icelandic settlers and their friendship with local Indigenous man John Ramsay- right in Riverton near where it all began. The film will be followed by performances featuring special guests William Prince, Scott Nolan and Duncan Mercredi.
A Song for John Ramsay was commissioned by the New Iceland Heritage Museum as part of their newest exhibit that focuses on the legend of John Ramsay, and was created in the spirit of Reconciliation to highlight early stories of partnership and friendship between Icelandic Settlers and the Indigenous people in the New Iceland area. We thank them for their integral part in making this story and artwork come to life.

---
Many thanks to our community partners and hosts and our generous sponsors!
Artist Sponsors