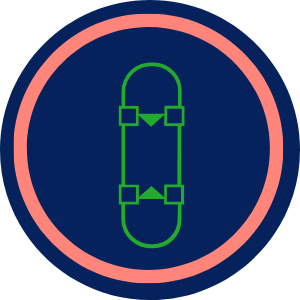 Skate Jam!
Join Hañwakañ, DJ Boogey the Beat and top Manitoba skateboarders as they tour the Interlake's skateboard parks. Prizes will be available for best tricks and other fun competitions!All are welcome to watch or participate (no experience required— just come check it out!).
Individual Chautauqua projects will premiere between June and November. And this skate jam will pop up too! Keep in the loop with our newsletter so you don't miss anything!
Hañwakañ Blaikie Whitecloud
Chautauqua Commissioned Artist
Hañwakañ (Hañwakañ = 'Northern Lights' in Dakhóta) Blaikie Whitecloud is a mixed media storyteller, professional facilitator, strategic planner, and business owner who has called Winnipeg home since the age of five. Active in the business and skateboarding community as a mentor and leader, Hanwakan even has some skate-sons, as he's stepped into to be a father figure for youth in need.  As a filmmaker, his work focuses on building identity for urban Indigenous youth. His latest documentary series is about Pow Wows across Canada (Living by the Drum: Canadian Pow Wows), and his current project explores celestial creation stories of Indigenous nations.  As a skateboarder Hanwakan supports Indigenous youth to strive for their best selves by shirking the stereotypes and prejudices attributed to Indigenous and skateboarding identities. His most recent creation is an instagram guide to all the skateboard parks in Winnipeg (@wpgskateparks), a resource for skaters he always wished he had access to and has now created for the next generation. Hañwakañ is also an active volunteer, especially with 1JustCity, at their overnight emergency warming center. Hañwakañ and his wife co-facilitate workshops on reconciliation, systems change, and generally just have tons of fun together trying to make the world a little bit better.