---
Ardith Boxall
Chautauqua Architect
Ardith was born in Winnipeg and is a lifelong settler in Treaty One Territory. A dancer as a kid, and a great one for pretending, she studied theatre as a vocation becoming an actor and director. Working at Theatre Projects Manitoba, she dedicated her arts practice to the development of local artists and to the production of Manitoba plays. In recent years, she set out to explore ways the company could work and play with rural communities. This has drawn her repeatedly back to the Interlake to connect the work of Theatre Projects Manitoba to the land, waterways and histories that have shaped Manitoba. The Interlake Chautauqua is a joyous labour of love and perhaps the trail that has taught her the most about art and community. As an artist and a citizen, the search for her own origin story on the land between the lakes continues.
Andraea Sartison
Chautauqua Architect
Andraea Sartison is a theatre artist who thrives on collaboration and innovation. A director, creator, teacher and producer she enjoys leading large scale projects and helping artists grow their projects and practice by offering unique artistic experiences. Finding herself in theatre was no mistake. It is the art form that combines all others she loves- text, music, movement, and visual art. Imagining new ways to perform and share art, and new collaborators drives her work and is at the heart of the Chautauqua project. It is an avenue where she can ask her favourite question "what else can theatre be"?
Hañwakañ Blaikie Whitecloud
Chautauqua Commissioned Artist
Hañwakañ (Hañwakañ = 'Northern Lights' in Dakhóta) Blaikie Whitecloud is a mixed media storyteller, professional facilitator, strategic planner, and business owner who has called Winnipeg home since the age of five. Active in the business and skateboarding community as a mentor and leader, Hanwakan even has some skate-sons, as he's stepped into to be a father figure for youth in need.  As a filmmaker, his work focuses on building identity for urban Indigenous youth. His latest documentary series is about Pow Wows across Canada (Living by the Drum: Canadian Pow Wows), and his current project explores celestial creation stories of Indigenous nations.  As a skateboarder Hanwakan supports Indigenous youth to strive for their best selves by shirking the stereotypes and prejudices attributed to Indigenous and skateboarding identities. His most recent creation is an instagram guide to all the skateboard parks in Winnipeg (@wpgskateparks), a resource for skaters he always wished he had access to and has now created for the next generation. Hañwakañ is also an active volunteer, especially with 1JustCity, at their overnight emergency warming center. Hañwakañ and his wife co-facilitate workshops on reconciliation, systems change, and generally just have tons of fun together trying to make the world a little bit better.
Claire Thérèse Friesen
Chautauqua Commissioned Artist
Claire Therese Friesen is a multi-disciplinary artist from Treaty One Territory who lives and works in Winnipeg, Manitoba.  She loves performing and collaborating in new works of theatre, including Embargo (One Trunk Theatre/MayWorks), I Dream of Diesel and Mission Potluck (One Trunk Theatre), Broken Wings (take me home productions), and Dionysus is Getting Impatient (Theatre Incarnate). Claire is a singer-songwriter, performing with her band Claire Therese and the Lockdown.  They are about to release their first full-length album. She is also a member of the Fu Fu Chi Chi Choir.  When she is not on stage, Claire is the Community Engagement Coordinator at Mount Carmel Clinic, and facilitates and designs arts programming for a number of organizations, including Shakespeare in Stony Mountain (through Shakespeare in the Ruins), a program that offers high school drama credits to incarcerated men.
Daniel Jordan
Chautauqua Commissioned Artist
Daniel Jordan is a multi-instrumentalist, producer, and songwriter based in Winnipeg. A veteran of the international touring circuit and local music scene, he loves collecting and sharing stories. He has found the latest Star Wars films quite disappointing but sometimes plays folk music in a trio called Red Moon Road.
Joseph Pilapil
Chautauqua Commissioned Artist
"I am a sign painter, designer, and artist. Sometimes dancer. I run a sign company called the travelling sign painters (@thetravellingsignpainters). We specialize in hand painted outdoor and indoor signs, murals, lettering, and everything in letter. I've worked with many local and Canadian companies creating all types of projects for them. I am also part of an artist collective called bearface general (@bearfacegeneralstore) and sometimes I teach and dance swing dance."
Marsha Rasmussen Knight
Chautauqua Commissioned Artist
Marsha Rasmussen Knight was born and raised in Winnipeg. Her heritage and relations stem from the Interlake, in particular the Eriksdale, Ashern, Vogar, Dog Creek, and Ebb and Flow regions. Marsha first ventured onto the stage over 20 years ago and has been actively involved in the many aspects of theatre. She has led countless workshops focused on performance and worked for seven years as a classroom drama facilitator with at-risk youth. Marsha also has experience in films and, along with National Screen Institute, is producing her first documentary. Currently, Marsha is teaching Indigenous Performance at the University of Winnipeg.
Sage Stoyanowski
Chautauqua Commissioned Artist
My name is Sage Stoyanowski and I'm an artist who grew up in Arborg, MB. I enjoy and focus most of my creative energy into music making. Although, I love all forms of art. I am passionate about working with others and learning from the people around me. Chautauqua 2021 has been a blast and I'm so excited to be involved in the sharing of these wonderful collaborations! When I reflect on these projects, I feel energized and so very grateful. I'm grateful for the land that we have created on, the relationships we have built, the experiences we've had, and the memories that we have made. It has been a pleasure working in collaboration with the team of Chautauqua artists and meeting fellow community members along the way. Here's to art, in all forms, and the connection it fosters!
---
RBC Emerging Artists
---
Shayna Pollock
RBC Emerging Artist
With years of self directed art and design experience Shayna Pollock started off sketching and painting still lifes and portraits; having her first work of a Ukrainian Cossack displayed as a young child. Choosing to expand on her talents she spent many years honing her soft design skills through clothing design, pattern making and upholstery. Deciding to further pursue design she obtained a Bachelor of Design degree in Industrial Design at Emily Carr University in 2020 while exploring other various art forms. There she discovered how therapeutic and tactile ceramics could be, and realized her love for expression and exploration through installation, sound art and photography.
As a multidisciplinary artist and designer who enjoys working within various mediums, she creates visually contextual work, mainly focused on photography. To Shayna, photography is a way to speak, express, explore, engage, and understand an experience as a whole. Subject matter changes as she explores her thoughts based on experiences and interactions from the past and present. As an industrial designer she finds it isn't about making something completely new, it's about reevaluating how we currently create, interact and how it affects the world around us. It is important to her to create meaningful, intentional products, feeling an empathic eye is needed to conduct research and consider the needs of each item as it is designed. She tends to offer up a different view due to a multiple chemical sensitivity with a desire to create objects of substance for the public sector. As a Metis person hailing from a small town in Manitoba and growing up with endless fields surrounding her, she feels very strongly linked to the plains land she is from. shaynapollock.com
Tanner Manson
RBC Emerging Artist
Tanner Manson (he/him) is a queer artist specializing in devised performance creation, poetry and physical theatre. He grew up in rural Manitoba and currently resides in Winnipeg, Treaty 1 Territory. Expect absurdist thoughts filled with love in his work. He does a little bit of everything and loves everything a lot- from performing, to administration, to constructing sets, to constructing scripts. He is co-founder of the award-winning Walk&Talk Theatre Company where he, along with his best pals and collaborators, create new music-theatre (more info here: https://www.walkandtalktheatrecompany.com/).
He has had artistic residency with the International Institute for Sustainable Development – Experimental Lakes Area, he's toured across the prairies with Shakespeare in the Ruins, he works administratively and artistically with Theatre Projects Manitoba and One Trunk Theatre, amongst other projects (he's always trying to concoct something). He often sits around with a cup of coffee contemplating the world's big thoughts, and dreaming of what he'll create next.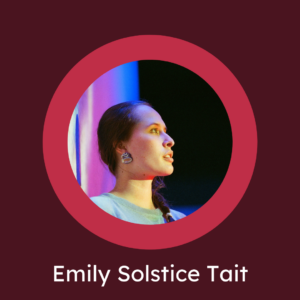 Emily Solstice Tait
RBC Emerging Artist
Emily Solstice Tait's practice is rooted in contemporary dance and her work crosses into theatre, devising, choreography, and stage management. She was raised in Winnipeg and is of mixed settler and Ojibway ancestry (Berens River First Nation).
Dancing has taken her across Turtle Island, from the Atlantic to the Pacific and even a short time in the Yukon. Emily has danced with Raven Spirit Dance, Theatre New Brunswick/Confederation Centre for the Arts, Winnipeg Contemporary Dancers, Odette Heyn-Projects/Indian City Canada Day Live Ottawa, Théâtre Cercle Molière (Miguel Fortier), Stephanie Ballard and Dancers, Sarasvati Productions, and Winnipeg Symphony Orchestra.  Her choreographic work has enlivened spaces like The Manitoba Museum, The Forks National Historic Site, and found its way into indie film and theatre productions throughout Winnipeg.
Joshua Banman
RBC Emerging Artist
Joshua (he/him) is an interdisciplinary storyteller, working with songwriting, acting, film and animation. After a decade working in the corporate sector with a focus on adult education, organizational change management, and software integration, Joshua has returned to the arts full time. Joshua holds a Bachelor of Arts in Theatre from the University of Manitoba where he was a member of The Black Hole Theatre. He is excited to engage with Winnipeg through art, hoping to influence audiences to imagine and think critically about a better future for everyone and how we get there.