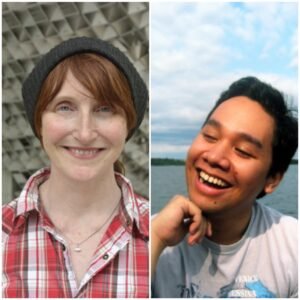 Meet Linda Beech and Joseph Abetria! As we approach opening night of Iceland (November 5!), we would like to introduce our audience to the talented artists handpicked to bring this production to life.
Linda, our set designer, is an artist celebrated for her large scale sculpture and installations. Two of her most well-known projects are "Big Crow" and "Borderline". "Big
Crow", pictured below right, was shown at Access Gallery in Vancouver in 2002 with the help of a British Columbia Arts Council Grant. The piece was also shown at the University Of Western Washington in 2003. In 2004, Linda unveiled an installation piece at the main branch of the Vancouver Public Library, "Borderline" (pictured below left). On "Borderline" Linda says:
"We made the city. What does the city make us? Like the majority of people I have spent most of my life in an urban environment. Although I have idyllic dreams of the "country" or "nature" I will probably spend the rest of my life in cities. I'm interested in how an urban environment comes together with nature and the blurring of those boundaries. "Wild" animals are my starting point. The crows, raccoons and coyotes that inhabit the city are signposts, marking an uneasy border between civilization and
what lies beyond. My work explores this juncture and raises questions about co-habitation, ownership and territory."
Joseph is designing costumes for Iceland. We were curious about this exciting young artist's budding career, so we asked him a few questions about where he is going and where he has been.
You have recently graduated from the University of Winnipeg's Theatre and Film Department. Any big dreams or goals on the horizon now that you are finished school?
Joseph: One of my goals after I finish school is going back to school. I am interested in acquiring my master's degree in theatre design in the future. I believe that there is always something new to learn and refining my craft is something important to me. One of my big dreams is to design for dance; maybe a new ballet or contemporary piece. Costume designing for dance pose different challenges to the designer and it has always been fascinating to watch the movement of a dancer breathe new life to a piece of costume.
How did you become a theatre artist?
Joseph: Theatre was something that I fell into in university. I never took drama in high school. In fact, I took all the science classes thinking that I might do something with that in university. But the call to do something creative, visual, and artistic was just too strong. I took the Intro Theatre Design class along with a production class in my second year and the rest was history.
If you were not a theatre artist, do you have a fantasy, alternate dream job?
Joseph: As a kid, I enjoyed reading comics and watching animation, so much so that I've dreamt of becoming a cartoonist. Those early days of sketching and painting were the first sparks of my interest in the visual arts. I think if I weren't a theatre artist, I'd be a painter or an illustrator.
Stay tuned for our Spotlight on Iceland Actors!